MerryBet was first established as an online casino back in 2013. It quickly developed and later introduced an in-depth sportsbook which their customers made good use of in the online betting industry. This bookmaker's betting platform is a modern one, with most of the bettors referring to it as one of the most prominent players in the Nigerian online betting industry. There are new features, together with markets that are being added regularly.
It does have a list of up to 20 sports where you can always place your wager. The main games are tennis, handball, football, snooker, American football, boxing, hockey, ski jumping, volleyball, cycling, pesapallo, motorsports, cricket, and many more. For sure, it offers a wide variety of sports to bet on. You can even place bets on esports like League of Legends, FIFA, Counter Strike, and many others. In terms of competition, you will always get everything you need, including basketball, great soccer, and tennis competitions.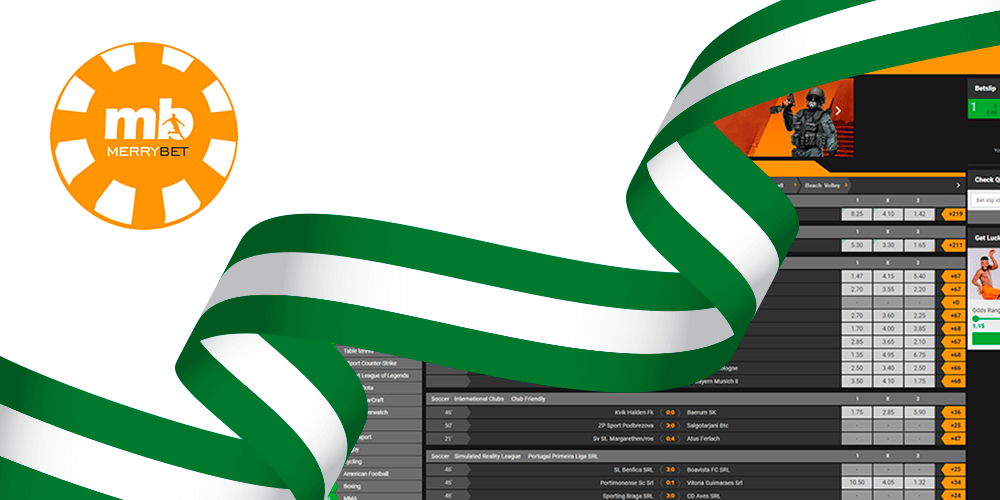 You can always place bets for matches in the top European soccer leagues like the Italian Serie A, English Premier League, German Bundesliga, French League 1, and the Spanish La Liga. Outside Europe, you can place bets on international competitions and the Chinese league, among others. MerryBet will offer you high and competitive odds for sports betting. Although they are not the best, they are much better than most of the other bookmakers.
MerryBet License
MerryBet sports organization has been sanctioned by the law, and it is regulated by the Lagos State Lotteries Board. Its licensing has given the Nigerian customers an extra layer of security, especially when putting their money on MerryBet. The license and quality of services MerryBet offers to its customers has been the great secret towards its quick resurgence in the online betting industry. Customers have trust in its operations and many bettors are signing up with this bookmaker after managing to handle the already signed up customers well.
MerryBet Booking
MerryBet does have a great list of sports events in which punters can always select their preferences. It is possible for a player to still load a booking code or even a bet slip number to book and place a bet on particular games on the official website. MerryBet booking allows for its users to have a view of all the trending chances and copy them on their future fortunes.
In case you are interested in booking a game to place a bet on, follow the steps below:
Go to the official MerryBet website and log in using your username and password
Fund your account
Select the sport you want to place your bet on
Select the tournament you want to take part in
Select the team or game you want to bet on
Choose the type of bet
Place the bet. You can place in as many games as you want
Enter the amount you wish to bet
Confirm the chance and wait for results.
MerryBet Registration
The process of signing up for a MerryBet account is straightforward, and you can accomplish it within a few minutes, even when you do not have prior experience.
Below are the important steps detailed for any potential client interested in opening their account at MerryBet.
Got to the official MerryBet website
Click on the signup button
Enter your details. It will comprise of email address, full names, age, password, and location. However, the players should be at least 18 years of age for them to register
Click on the submit button
Check on your email for a confirmation link. Click on the link, and you will be redirected to the login page of MerryBet.
Enter your username and password you provided during the registration process.
In case you have forgotten your username or password, you can recover it by clicking on the lost login details, and you will be issued with instructions to enable you to reset your current password.
After signing up, ensure that you go through the terms and conditions section to be on the safe side so that you are aware of what the bookmaker requires from you as their member. If you fail to read through this section, you might infringe on the terms unknowingly and can easily lead to suspension or even permanent closure of your account. Ensure you use your real information when signing up at MerryBet
How to Bet On MerryBet?
There are different types of bets you can always place on MerryBet. When opening an account with MerryBet, you anticipate making some money. There are essential things you need to know before you can start making some wins from your bet. There are two main types of bets: single and accumulator bets
Single bets
The single chance is placing a chance on a unique selection in an event. The choice must be successful for you to get a return. For example, Barcelona vs. Sevilla, the odds for Sevilla, is 15.25. When you place a bet for Sevilla to beat Barcelona with a stake of ₦1000, you will win ₦15, 250 IF Sevilla wins. However, if they lose or draw, you will lose the bet.
To place the bet, click on the odd for Deportivo La Coruna to win (15.25). The game is added to your bet slip, type 1000 in the space for the stake, the amount you will earn (15,250) is automatically calculated. Click on next to place the bet.
Multiple Bet

Multiple bet is also referred to as combo bets or combination bets. The accumulator bet is one of the most popular football bets made by most punters. The accumulator is just a single bet that links two or more wagers and is dependent on all of the lottery winning. The accumulator benefit is that it has higher payoffs when compared to placing individual bets separately.

It is possible to accumulate the game from different leagues, sports and tournaments can also be on different dates.
For example, when you want to accumulate four different games: Manchester United vs. Burnley Fc Chelsea Fc vs. Brighton Albion Watford vs. Liverpool West Bromwich vs. Everton When you stake ₦1000 on Chelsea Everton, Manchester United and Leicester City and your bet wins, you can bet ₦10,256.4 in return. However, if any of the teams lose, you will lose the entire chance. For you to accumulate, you just need to click on the odds of the game you want to add to your bet slip, and they will automatically be added.
Live Betting
Live betting comprises of placing bets while the event is still on. For example, in football, the live markets which can be found include the name of the player to score the first goal, total number of goal kicks, total number of cards, total number of corner kicks, which team will score the next goal when a goal is scored, etc.
For example, if Chelsea is playing Arsenal and it is live on bets, the odds for the total number of cards is less than 10. If you put a stake of ₦500 and after the match, the tickets are less than 10, it means that you have won the bet. However, when the total numbers of cards are more than 10, you have lost the lottery.
It is important to note that the information provided on the live betting pages about the status or score of an event is for indicative purposes only. We never accept the accuracy responsibility of data we have issued, and as such, we can never be held responsible for any bets based on all this information.
As we continue using our reasonable efforts to ensure that the type of information we display is up to date, any of the users in our live service does acknowledge that there is the potential of such information being displayed. It will place them at a disadvantage to us or any other customer who does have access to more up to date information.
A bettor is also advised that there are times when other modes of communication on live bets like radio, television, or websites can have some delays in relaying real-time action. Hence, this can quickly put the bettor at some disadvantage since others may have to access real-time information.
Virtual Betting
It involves placing a bet with teams that are not real. The units are typically computerized. One advantage that comes with playing the virtual games is that you will not have to wait for the entire 90 minutes for the outcome. A virtual match can last for only three minutes, and you will be credited when you win the bet.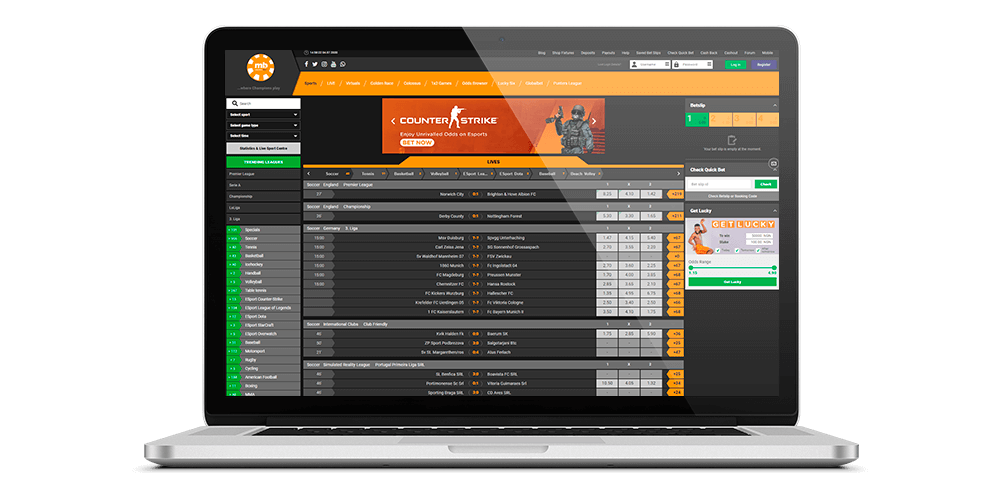 Bonuses and Promotions
MerryBets still lacks when it comes to the development of both the new and existing customers. It means that customers will have to look elsewhere if they are interested in boosting their account balance. Most likely, they tend to go for the significant and established bookmakers in the market. Customers are at times offered promo codes, which are valid for 24 hours and promised cash back for any unsuccessful bets together with price boosts among the rewards that are on offer.
For one to qualify for any reimbursement form, customers will have to place the qualifying bets at odds of at least 1.50. It is essential to see that promotions are an area where MerryBet can make improvements with bonuses being the first thing to attract new customers to any bookmaker. However, MerryBet is an online casino that receives excellent attention whenever it comes to bonuses and promotions with their sportsbook having been neglected in that area. The following promotions are worth it when we keep in mind the wagering being offered at MerryBet.
Go For Access
The MerryBet offers a promotion where its users receive up to 5% cashback in the case of their accumulators with five or more selections lost to one single pick. For this particular reason, the sports betting strategies that comprise of accumulator betting makes lots of sense with this bookmaker.
Refer Your Friends
Although MerryBet will never provide you with a bonus when it comes to betting yourself, they will always add up to 50% of the friend's losses back to you in case you did refer them to the site. However, such a deal can be very lucrative when you know the right type of people and can convince them to register and place bets on MerryBet.
Ask For Support
Since it is quite a long shot, asking customer support at MerryBet for any free play voucher can always pay off, especially when you are a loyal brand. It will not cost you anything to ask, so why not risk and give it a try?
Payment Methods
Nigeria customers will be happy with the banking options available at MerryBet while the minimum deposits and bets mean that they are an excellent platform for recreational punters and starters. The bettors can process their deposits from their bank accounts using the debit and credit cards or ATMs, Pay direct, and Quickteller.
Customers can take advantage of their prepaid cards while the withdrawals are processed very fast. The minimum bets at the MerryBet usually start from ₦50. The maximum bets depend on the market a customer has selected. The payment services at MerryBet are offered by Zenith Bank, First Bank Of Nigeria Ltd, and Diamond Bank. The data of the bookmakers' accounts and other information are located at a relevant website section.
Deposit Options
Payment options
Webpay

Pay Direct

GT Collections

Paystack Card

Quickteller

GlobalPay

Zenith Bank
Nigerian players can enjoy a wide variety of banking options, which are acceptable at MerryBet. Some of the available deposit options include:
Webpay
Pay direct
GT collections
Paystack card
Quickteller
GlobalPay
Zenith Bank
Whenever you click on your preferred banking method, you will be issued with extra information about a particular payment method. There is always a rolled out guideline for every banking method that will help you complete a transaction. Both the maximum and minimum allowable deposit transactions have been outlined in the majority of the banking options.
Cash Out Options
MerryBet gives its punters access to part of their possible win before bet settlement. The amount available for money back will always be dependent on the cashing out time together with the current chances of winning a bet. You have an option of making full cash out or partial cash out. When you apply for total cash out, the bet slip will never be eligible for any further processing. In case of partial cash out, you will still be able to collect extra winnings from the same bet slip.
However, cash out options are never applicable for:
Bet slip of the live events that are almost coming to an end
Bet slip containing games which have ended their results yet have not been updated
Free bets
The options for making withdrawals are fewer when compared to the options available for making deposits. The withdrawal options include:
Perfect Money
Bank Transfer
Instant Payout
₦1000 is the minimum allowable withdrawal transaction. A bettor can make a withdrawal of as high as ₦500, 000 within a day. The bank transfer withdrawal transactions are usually completed within 24 hours after you have requested removal. However, this withdrawal request excludes public holidays and weekends. Instant payout option is only available from 8 am to 9 pm. It is also important to note that the perfect money withdrawal option can only be used when your account is funded using this particular option or using a prepaid card from Zenith bank.
MerryBet Mobile App Review
MerryBet offers a wholly great and unique design in its platform. Their excellent interface allows for quick and easy navigation between the pages. There is an unusual color scheme that dominates throughout, although the website functionality is still pleasing.
The betting platform of MerryBet is only available in English and has a virtual, in a play together with extra features that can easily be accessed thanks to their tabs, which are cleverly placed at the top of the page.
Placing the bets can take a few seconds after logging in and has all the sports markets listed down the pages' left-hand side. There is also a search bar that offers players with another method of accessing their top pages. The statistics center is an excellent plus for the customers and comes with features that provide a significant amount of useful and relevant information concerning the players and teams.
The punters are in a position of analyzing data before they can use such statistics to help them place the winning bets. We also found out that mobile customers are taken care of well at MerryBet with the free to download the app, which is accompanied by a very easy to use and mobile-friendly website.
Both the android and iOS users are in a position of taking advantage of the MerryBet app, which will provide them with an excellent platform for placing the bets on the go. The application will offer the same features as those found on their main desktop and are now the perfect choice for sports wagering for several bettors.
MerryBet Nigeria Support Contacts
There are always times when a problem can arise. When they do, you do not have to be worried since you can still get assistance from the MerryBet support staff. In case you have any inquiries, you can always get in touch with the customer support team at MerryBet, who are still available on a 24/7 basis.
At the bottom right of the screen, there are icons for live chat features and an icon for email. The live chat feature is the fastest and most advisable, especially when you need an immediate response. When you use email to contact the support team, they will take longer to get back to you. It is also possible to make direct calls using contact number 017002030 or send them a chat via WhatsApp on WhatsApp number 08164387525.
Apart from having a dedicated customer support team, this bookmaker also has a very dedicated and clear frequently asked questions section. Before you contact the support team, you should take a visit to the FAQ section to see if your inquiry has been addressed there.
Pros and Cons
There are several pros and cons you will always encounter when using the MerryBet in online sports betting.
Pros
Has many virtual sports
Low minimum bet
Low minimum deposit
The front page is well designed
Has several search options
Customer service is available 24/7
Has a live chat section
Cons
There are no Asian handicaps
There is no live streaming
No first deposit bonus
No mobile apps
Who Owns MerryBet?
Opeoluwa Fashakin is the founder, owner, and CEO of MerryBet. Fashakin is a low key guy, and you will hardly hear his name being mentioned the way you hear Nairabet's Akin Alabi. We did take a look at his profile and found that he comes from Lagos State University and is also the CEO of Epaysystems Ltd.
How to Check Betslip on MerryBet?
Checking a MerryBet slip is very easy. You just have to open the official MerryBet website and log in using the right username and password. Then, enter the page you need, and it is from that page where you will see your bet slip. Click on the rear triangle to choose the category you need.
In the past years, Bet9ja and Nairabet were considered by many as the most popular online sports betting sites in Nigeria. The fast rise of MerryBet should get the big guns worried! MerryBet is the mutts and nuts and does have a forum where you can get in touch with the customer support representative and discuss betting issues with your fellow bettors at MerryBet. It is a perfect site for football, and all those predictions are worth getting involved with since you can win some good cash.