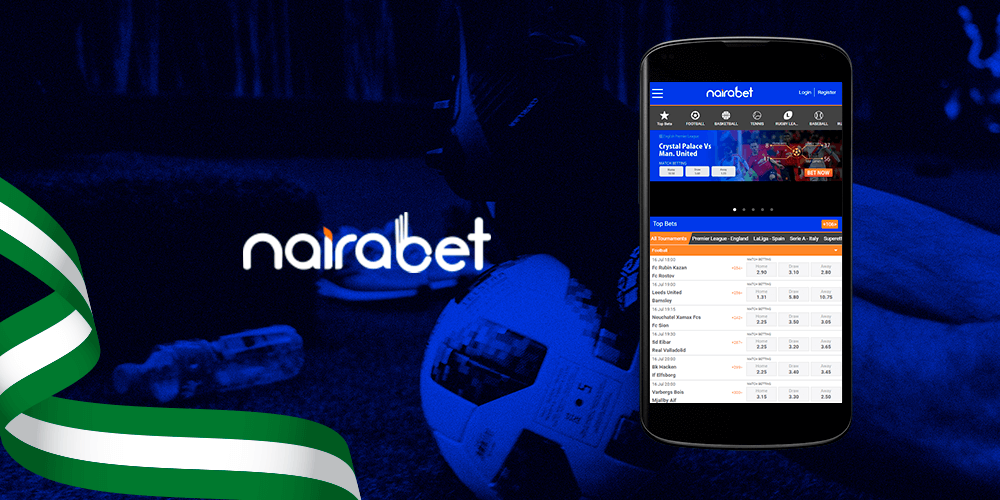 Nairabet Nigeria
100% Welcome Bonus
✓ Great for the football bettors
✓ A very user-friendly site
✓ Available in mobile application
Nairabet is among the top online betting firms in Nigeria and the whole of the West Africa Region.
Despite being a top market leader, they have not yet developed their android mobile application. However, Nairabet has made lots of positive efforts in offering multiple platforms that are able to meet the demands of its punters.
Nairabet is one of the oldest online bookmakers in Nigeria that offers its members the best quality mobile access methods any punter would wish to have as they provide complete access to all the sportsbooks and casinos.
Currently, the team behind Nairabet has focused their investment strategies and energies on other areas of interest, and this made them offer an almost identical mobile version of its desktop website to help those who want to access the site via their mobile phone. The primary purpose of the mobile site is to offer a near equivalent user preference that is entirely free of extra need of downloading the application for mobile while at the same time providing unobstructed access to the functioning HTML 5 browser site where mobile users can easily take part in sports betting, casino games, virtual sports, and in-play betting.
All the people who are current members will just need to open a mobile browser of their choice and navigate to the Nairabet mobile site and key in all their precise details. However, if you are a new player, you will have to click the Register button that is located in the upper right-hand corner before you can proceed to complete all the information required then click on the submit button.
How to Download Nairabet on Android?
Since Nairabet does not have its own application, which you can download on your mobile device, they did come up with an optimized site that is specifically meant for mobile betting. Its URL is straightforward to remember mobile.naira.com instead of just Nairabet.com.
When you access this site, you will be able to navigate easily with the betting options using the taps and scrolls on its smaller screen. It is also possible to go to the average website using your mobile phone although the experience is more enhanced on the mobile site. It just takes going to the web browser of the phone and typing the URL then logging in to the Nairabet account.
From here, you will be able to make deposits and withdrawals. It does not matter the device you are using. You will always have a sportsbook you can bet on.
As you already know, Nairabet mobile sites are HTML5 based. It means they can easily be accessed using any modern phone regardless of their operating system. They can be windows, android or iOS
Here is a list of tablet and smartphone models that are compatible with the Nairabet mobile lite and full versions.
iPad Mini
Samsung Galaxy Tab A
Samsung Galaxy Note 9, J6, A9
LG G5, G6, G7
Sony Xperia X22, X21, XZ Premium, XA2
Nokia 5.1, 10
Huawei P10, Mate X, Mate P20
iPad Air
Nairabet Mobile for iOS
In its quest to maintain a common ground for its mobile phone users, Nairabet did choose not to offer an iOS mobile application and to stay true to its operation mandate in allowing the iOS users to have equal access to their wide range of betting products through a browser-based mobile website. Those who are using the iOS mobile devices will always enjoy lots of convenience of not having to download the APK files. In the process, they do have a cross-platform based betting site, which most of the bettors have really appreciated.
Just like those who are using the android smartphones, all the existing members may always open a mobile web browser and take a tour of the Nairabet website where they can easily key in their login information and have access to their account. They can then proceed to take part in the betting services that are being offered.
The same will apply to the individuals who are new to Nairabet and are interested in opening a new member account. All they have to do is click on the registration, but that is situated at the right top corner and complete all the details required before they can start experiencing several betting options.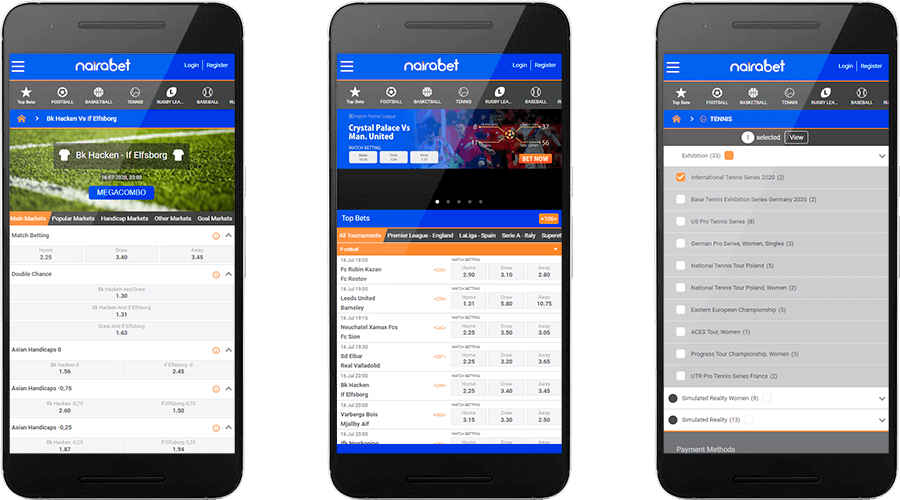 Nairabet Mobile Website
It is a great thing to see that Nairabet offers two mobile versions of their desktop platform. The first mobile version is the full mobile portal that mirrors the PC site while the second version is the mobile lite version, which is a much lighter version.
We can start by having a closer look at the mobile site, which is the version you will be redirected to whenever you type the Nairabet web address into your browser. Just as its name suggests, the Nairabet Lite version does lack lots of banners, graphics, and icons that can be found on its full mobile version. It allows for a much faster loading time together with intuitive navigation through different sections.
The full mobile version is very similar to the desktop platform when we look at the choices of color, structure together with its overall layout. The user experience is enhanced thanks to the different menus, filter options, and the call for action buttons to help in facilitating the browsing process. It is also possible to use the quick filter option to help you get a match by setting the sports type, time, and market. It also has a bet slip browser that allows one to input or scan the barcode to get a particular bet that belongs to you or your colleague.
It is actually the third option for mobile users who are interested in placing bets in Nairabet platforms using their mobile phones. All you have to do is go to the mobile menu and scroll down to the bottom of the page. There you will be able to view the site in its PC version.
Bet Types in Nairabet Mobile
There are different types of bets currently available in the different bookmakers in the market. Here are the Nairabet free bet types.
Single bet
It is the simplest bet type you will come across in the Nairabet mobile. Here, you will just select the event, and the outcome is always one. If yes, you can proceed and make your bet. It is prevalent among most of the Nairabet bettors. Most of its users never want to lose their money by securing multiple bets; this is what makes them resort to using the single bet to help make their winning chances higher. Most starters do prefer using a single bet since it is quite easy and helps in preventing losing lots of cash.
Multiple Bets
It comprises more than one single bet. When your chances in the slip fail to come by, but all the remaining ones win, you will always get something out of it. One beauty of using multiple bets is that you will be placing bets on different sports. For instance, you will be in a position of combining tennis bets with football bets.
System Bets
It is the last bet type you will be able to make when using the Nairabet. There are people who refer to it as a combined bet. It is one of the most complicated betting types among the three. Most of the people who take part in system bets are experienced bettors who have been in the industry for quite some time.
Nairabet Mobile Payment Options
The mobile users who want to place their bets on Nairabet can always deposit or withdraw money from their smartphones. However, Nairabet only accepts the Naira currency as it was made explicitly for Nigerians. The payment methods are mainly limited to card and bank transfers. Below are some of the platforms you can use to make deposits and withdrawals.
Deposit Methods
Visa
MasterCard
GTBank
Verve
Withdrawal Method
Pros and Cons
Here are some of the pros and cons you will encounter when using the Nairabet mobile site.
Pros
It is free to access
Has a straightforward design
Partial and full cash out available
Full cross-platform compatible
Rare lags in between the pages
Mobile lite version is excellent for fast loading
Cons
No mobile bonus
Minimal casino games
No live chats
It is important you remember that this bookmaker has made available a liter version for its mobile portal. This is a great commitment from the company to meet the needs of all its clients even those who are not in a position to access modern devices. It has still retained an airy feel and light despite providing lots of information. Currently, Nairabet is average in rating but can climb up the ladder quickly if they decide to bring in the live streaming functionality.