With different websites operating under its name, betPawa continues to expand its sports betting reach across the African continent. Apart from the platform dedicated to its Nigerian audience, this bookmaker also offers its services in Uganda, Kenya, Zimbabwe, Tanzania, Ghana, and Zambia. Depending on the country you choose to access the platform, each of these sites offers an experience tailored to the location.
The Nigerian version of the online platform is owned and operated by Calgary Online Limited, a Nigerian based company. As such, the platform is licensed under laws regulated by the Lagos State Licensing Board. These enable the platform to offer a fun and safe online betting experience to all their patrons. You, therefore, don't need to worry about whether betting here is legal or not.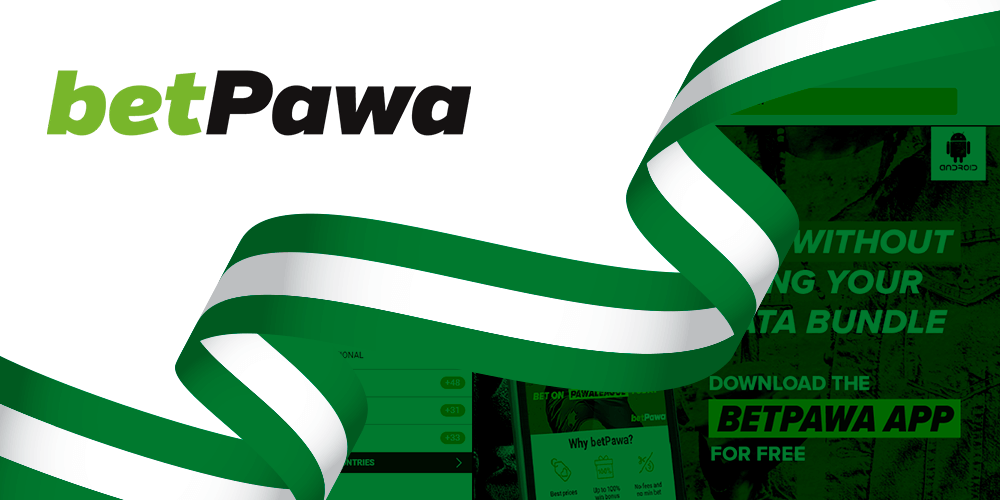 Apart from offering several sports markets and odds, this platform also has a section for online casino games. These are labelled as Games along the left side of the page. Within it, you'll find a few casino games to help you take the edge off from your betting exploits. All the games provided are exclusive to the betPawa platform. They're all certified as fair gaming options by Gaming Laboratories International, who performs regular vetting exercises on them.
The games you'll come across here are:
Trafica
Sweet Candy 6
Blackjack
Wheel of Luck
Fortune Miner
Lucky Roulette
Jacks or Better
This platform's operator also champions the practice of responsible gambling activities. Gambling activities can become addictive for some players. That's part of the reason why you can only hold an account here if you're above the legal online betting age of 18. Only individuals who can be considered as adults are expected to use the platform's offerings since they're in a position to know what is expected of them there.
However, if you happen to go beyond the safe limits of betting online, this bookmaker has measures to help you out. Since the platform supports responsible gambling, you have the option to set limits on your online betting activities. That means the platform will restrict your access upon your request through the self-exclusion option. To know whether such a restriction is necessary, keep an eye on your betting activities.
Self-exclusion comes in two forms here. You can either do it temporarily or permanently. For any of the two measures, get in touch with the support team to receive assistance on the way forward. The temporary option will have your account activities suspended until you ask to regain access to it. As for the permanent method, your online betPawa account will permanently be closed. This action cannot be reversed. So be sure it's what you need before proceeding to have it done.
betPawa Sportsbook
There's an abundance of online bookmakers coming up to serve the African market. Some are locally founded while others are overseas operators looking to get their feet wet in the African betting scene. betPawa Nigeria is a purely African betting platform that's slowly but surely making a name for itself. As such, you will not come across an extensive list of sports on their lineup. The available sports bettors can select from include:
Football
Table Tennis
Basketball
Cricket
Volleyball
Tennis
These can be selected from the left of the screen, directly under the betPawa logo. Clicking on the dropdown menu button will open up the list to reveal them all. Though few, each of these sports comes with quite a few options within them. Finishing your selection of the tournament, popular countries, or other countries will open up the markets and odds options available.
You'll notice that the sport with the most betting selections at this bookmaker is football. That's because this happens to be the most popular sport when it comes to making sports bets in Nigeria. There's an abundance of countries listed, all with football games you can place stakes on.
betPawa Nigeria Registration
For you to get a piece of the action, you have to complete your betPawa registration. Out of all the available online bookmakers in the African market, this platform offers one of the simplest registration forms to help you create your online betting account. Although you'll find that you're able to browse the various offerings on the site without logging in, having your bettor account is still a necessity.
As per the regulator's terms, all bettors accessing the site to indulge in sports betting must have user accounts. That helps to ensure the platform only accepts bets from eligible individuals. To get started with your registration, you need to:
Click on the Join Now button located on the green bar at the top
Type in your mobile number. The phone number must have details corresponding to your banking details
Enter your password. It must be a minimum of four characters
Type in your First Name
Type in your Last Name
Click on Join Now to create a betPawa online account
From that point, you're able to start browsing the sports to create your bet slip. However, you will not be able to place any bets before funding your account. To deposit money into your betting account, you must select a payment method from those made available on the platform. Once that's complete, you can quickly complete the process of making bets on the site.
In case you forget your password, there's an option to still have access to your account.
Click the Login button at the top of the page
Click on Forgot Password below the vacant fields for entering your credentials
Type in your mobile number
Click on the Request New Password button. You'll receive a verification code to your registered mobile device
Click on Input Verification Code on the same page
A new page loads. Key in the verification code sent to your mobile number
Click Verify Account
A dialogue box will load on the platform, enabling you to reset your password. That way, you can easily log in the next time you need access to your online account.
How to Bet on betPawa?
Experienced bettors have no trouble making bets at this bookmaker. The process has been made simple enough for even newbie bettors to get the hang of quickly. You can only place bets if you have a betPawa account. So once you've sorted that part, proceed to login to betPawa so you can start making your bet.
Select your sport from the left side of the page
Choose the Tournament which you'd like to bet on
In case the game doesn't fall under the Tournament category, you can select the Country instead. These are listed directly below the Tournaments
Beside each country's name is a green marker with the number of games you can find within it. Select the event you'd like to follow to see its markets and odds
Choose your predictions. You can have more than one prediction on your bet slip
Once you've made your selections, go through your bet slip to the right of the page
If you're okay with it, choose your stake
Click Place Bet to confirm your bets
Each sport comes with an impressive selection of bet types. These enable you to make predictions on different factors that play out during the entire game. That way, you're sure to stay glued to your screen while the games progress so that you can see which prediction you stand to gain from. For football, you'll have bet types like:
1X2
Over/Under
3-Way Handicap
Double Chance
Both Teams to Score
2-Way Handicap
Clean Sheet
Correct Score
Odd/Even
Team to Score
Goal Scorers
First Corner
For basketball fans, some of the bet types you'll come across include:
Matched Bet
Moneyline
Abandoned/Postponed Matches
Match Winner and Totals
Tennis bet types you'll find include:
Games Over/Under
Total Sets
Odd/Even Games
Correct Score
2-Way Handicap Games
Moneyline
Those interested in the bet types available for American Football can choose between the Total Score Over/Under bets for Home and Away, or the Moneyline Full-Time bet. Cricket and Table Tennis also have fewer bet types, with only 1X2 and Moneyline-FT options being available, respectively. Volleyball games come with the Moneyline and 2-Way Handicap options, while Virtual Football comes with:
1X2 – Full Time
Cancelled Matches
Double Chance
Over/Under
Half Time/Full Time
Although a cashout at betPawa isn't possible, this platform offers bettors the option to bet in real-time. Also known as Live-betting or In-play betting, this allows you to place bets based on how you see a game progressing. In-play bets also enable you to place bets on ongoing matches that you may have forgotten to bet on in advance. However, these bets require you to be quick on your feet since the possible types available can change quite rapidly.
When dealing with Live bets, you should always leave a bit of room for error. That's especially if you're watching the match to make bets as events come up. Sometimes, the broadcaster of a game may have a delayed transmission, meaning you will be watching events that have already played out. To access the list of live matches, click on the Live Now option to the left of your screen. You will get a list of all live games, the teams involved, and the odds on each game so you can make your picks.
How to Bet via SMS?
One thing you'll notice about bookmakers in Africa is that they offer multiple means for bettors to make their bets. You have the option of placing online bets either through a desktop or mobile web browser. Some even have dedicated apps so you can go as far as setting reminders for upcoming matches so that you can place your bets early. However, a unique option that very few operators employ is the use of SMS functionality.
Through SMSes, some bookmakers enable bettors without internet compatible phones to still manage to:
Set up user accounts
Make deposits
Place bets
Request withdrawals
This means that no bettors are left out of the fold since not everyone has a smartphone or tablet. Unfortunately, betPawa does not yet offer this option to its clients. However, as they continue to grow their brand, it could become one of the ways bettors have to stay in the sports betting loop.
betPawa Nigeria Bonus Offers
With most online bookmakers, bettors can look forward to bonuses after completing their online registration. These can come in the form of matched deposits or free bets. If there's a casino attached to the sportsbook, you may also get a few free spins or free chips thrown in. Whatever the case, these online bonus offers help you get more funds to bet with.
At betPawa, though, bettors do not have any promotions available for claiming. However, if you're looking to make some impressive winnings, the platform has a Jackpot option to the left of the page. There, you can place stakes on the 13 selected matches to stand a chance at winning the jackpot prize pool. If all your predictions are right, you could walk away with 1,000,000 Naira. However, if you manage to get nine or more predictions correct, you'll still receive prizes.
Payment Options
Payment Options
Mastercard

Visa

Verve

MTN/USSD-code

Bank Transfers
For you to start creating your bet slip, your betPawa account must first be funded. Making transactions to and from your online account can be done using the following options:
Mastercard
Verve
MTN/USSD code
Visa
Bank Transfers
Deposit Process
To deposit using ATM cards:
Log in to your account
Choose your payment method
Click on the Deposit button
Enter the amount you'd like to deposit
Input your ATM details in the pop-up window
Click on Pay
Input your OTP, SafeToken, Verified by Visa, or Mastercard SecureCode when prompted to complete the transaction
Wait for your account balance to reflect the deposited amount
To make a bank deposit:
Log in
Click the Deposit option
Choose your bank
Input your bank account number
Click Verify Account
Input the requested OTP or SafeToken to confirm the transaction
Wait for your account balance to increase
To deposit via the USSD code:
Log in
Click on the USSD option of your account
Click on the Deposit button
Key in the code you'll receive on your mobile phone
Type in your PIN or type in the last four numbers of your GTBank card to confirm the transaction
Wait for the new balance to reflect in your bettor account
To make an MTN Airtime deposit:
Log into your account
Click on Help from the Menu bar to the right of the page
Click on 'I want to deposit through MTN Airtime'
Click on the provided link in that section
Input the amount you're depositing
Click Deposit to complete the transaction
For MTN deposits, check your balance before the transaction and after the transaction. That way, you'll know whether the transaction was successful.
How to Withdrawal
Making a withdrawal of your funds is just as easy as making a deposit. You first have to ensure that your account is linked to an accepted service provider on the platform. If that's already done:
Log into your account
Go to the withdrawal section. You can also get to this option via the Help option in the Menu button to the right of the page, or the Help option at the bottom of the page
Click on the dropdown list to open the available withdrawal options
Choose your preferred method
Enter your account details and your location
Enter the amount you'd like to withdraw. betPawa accepts withdrawal amounts between 1,000 Naira and 2,000,000 Naira
Click on the Request Withdraw button to approve the transaction
For bettors using MTN for their deposits, your withdrawals will automatically be sent to your MTN account. Withdrawals are usually processed within 24 hours.
betPawa Mobile
For bettors without access to a computer, you don't have to miss out on placing your much-awaited sports bets. Simply visit the betPawa ng platform directly on your mobile device. So long as you have a smartphone or tablet with a reliable internet connection, you can browse the site's offerings. The platform is adaptive, meaning the platform's layout automatically adjusts to fit your screen size.
With the mobile browser, even when you're on the move, you can access the site to perform activities such as:
Registering for your betPawa account
Log into your account
Make deposits and request withdrawals
Browse the latest markets and odds for upcoming matches
Make bets
Indulge in Live betting
Receive assistance from the platform's support channels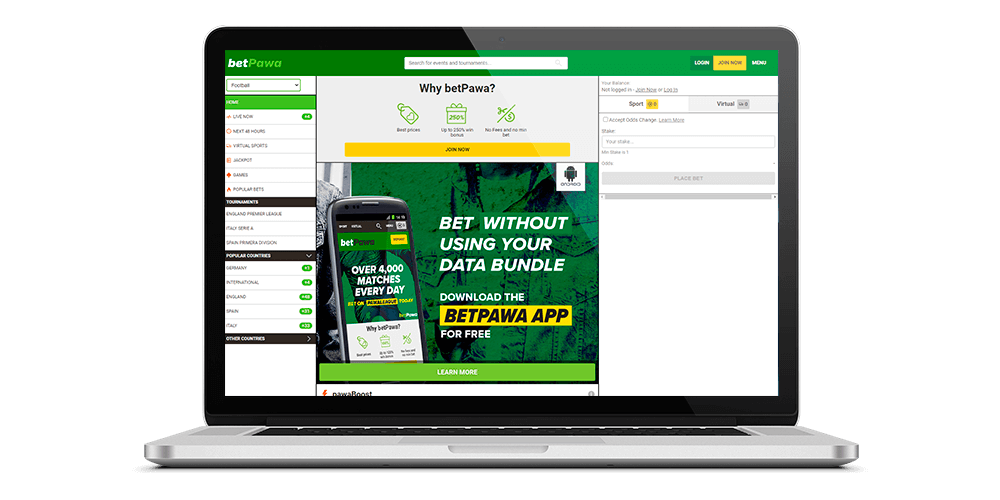 betPawa Nigeria Browser Site
The minute you load the betPawa. ng site, one of the first things you'll notice is the platform's minimalist layout. There's a dark green bar along the top that houses the bookmaker's name, a search bar, the Login and Join Now buttons, as well as a Menu. To the left of the screen, you'll find the sport selection menu as well as options like:
Live Now – for live bets
Next 48 Hours – for matches happening in the next two days
Virtual Sports – for betting odds on virtual games
Jackpot – for games with jackpot prizes
Games – to get to the available casino games
Popular Bets – for bets that have a large following
Tournaments – lists the available tournaments
Other Countries – lists the countries with games you can bet on
These all help you get to the desired section of the platform with ease. In case you need more options. Clicking on the Menu option at the top right corner. You'll get choices leading you to:
Join Now – to help you register
Log In – to log into your account
Deposit – for help with funding your account
About – for information on the bookmaker
Rules – for details on how the platform functions
Help – for help to get you familiar with the site's offerings
The bottom of the platform comes with the option to change your country. There are also buttons to get to:
The Terms section
The Responsible Gaming area
Customer Contacts
Whenever you need help, betPawa will be available. You can start looking for a solution by browsing through the bookmaker's Help section. This lists some of the most commonly asked queries by other bettors on the platform. If a solution isn't available there, you can reach out to the bookmaker's customer assistants. That's because the platform leaves its support channels open 24 hours a day.
Feel free to reach out through:
The support phone number – 07002387292
The support email address – [email protected]
Chat on Whatsapp – 08188409405
You can also get assistance or receive the latest updates about the bookmaker through their Facebook and Twitter handles.
Pros and Cons
With a lot to offer Nigerian bettors looking to bet on their favourite sports, betPawa has shown that it can easily stand tall when placed against other leading online sportsbooks. For a highlight of the most notable aspects, have a look at the pros and cons list.
Pros:
Offers multiple support methods
Comes with a mobile app for Android users
Allows mobile browser betting
Offers fast payouts
Deposits are instant
Accepts transactions using Nigerian Naira
Offers Live betting
Cons:
No iOS app
Limited sports to bet on
Is betPawa a licensed bookmaker?

Who owns betPawa Nigeria?