Among the many online bookmakers serving Nigerian sports fans is the Stakersden website. Owned and operated by the Stakersden Limited, a Nigerian-based company, the platform provides a variety of sporting events for bettors to indulge in. This bookmaker is also well known for having some of the best odds within the sports betting industry, and especially for football matches. These include stakes in leading European leagues such as the UEFA Champions League and the Premier League.
Other sports you can look forward to here include:
Golf
Rugby
Snooker
Volleyball
Basketball
Tennis
Ice Hockey
Formula 1 Racing
To make the platform easy for people to familiarize themselves with, Stakersden has kept its layout simple. The sports are to the left of the page while the games are listed adjacent to the sports lineup. The Login and Register buttons can be found at the top of the page. Other menu options such as the In-Play betting and Help tabs can be found along the top of the page. Therefore, whether or not you're new to sports betting, you will find buttons to different sections of the platform without going too far.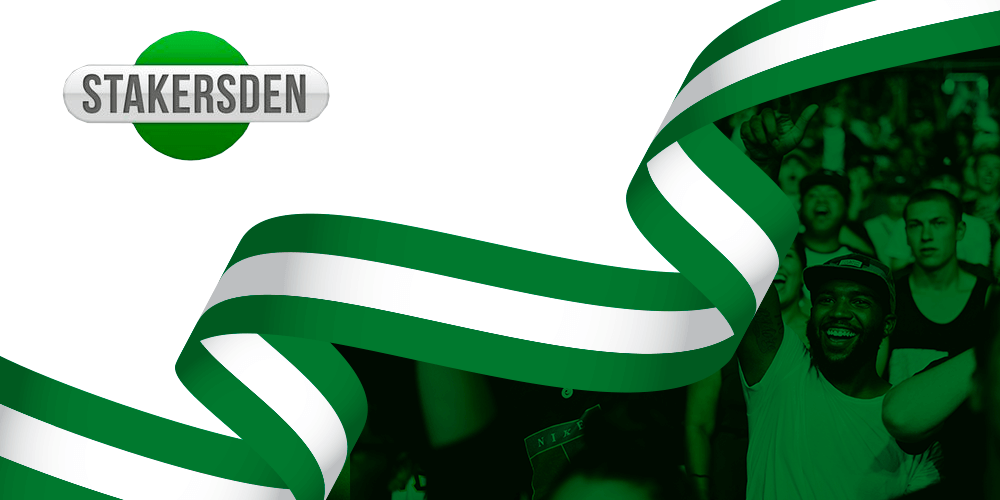 Since sportsbooks seek to help bettors make money, the platform you choose needs to be extremely secure. That's because you will have to register personal details that will include your identity and banking information. That's why Stakersden has in place top-notch firewalls and bank-grade encryption software to keep unauthorized personnel from accessing their data servers.
In case you don't know how to proceed with your betting activities, Stakersden also has physically located sports betting agents in Nigeria. At these agent stores, you will be able to receive the latest information on any odds available on the online platform. Therefore, if your access to the bookmaker's website is limited, you can still know which teams to place your bets on.
Payment options
GT Bank

Mastercard

Visa

Credit or debit card and more
As much as Stakersden is geared towards taking care of Nigerian bettors, you'll find that you can fund your bettor account using either Nigerian Naira or US Dollars. Deposit and withdrawal options available to Stakersden's users include bank transfers via GTBank, Mastercard, and Visa credit and debit card transactions. The bookmaker's partnership with these well-known payment providers means that transactions occur quickly and are incredibly secure.
How to Register
Stakersden restricts the use of its platform's services to its registered members. You can still browse through the site to see which services they offer bettors, even if you do not have an account. However, if you'd like to place your bets on some of the odds they have in place for upcoming tournaments and leagues, you'll first have to go through the Stakersden registration process.
The registration process takes no time, as there are only a few details you need to offer. These include your login credentials such as:
Your username
Your preferred email address
A secure password
In addition to those, a few of your more personal details will be requested. This enables the bookmaker to distinguish your account from other bettor accounts on the platform. It's also a requirement of the bookmaker's regulator that all clients provide proof of their identity. You will be asked for details such as:
Your first and last name
Your date of birth
Your phone number
Your email address
Your area of residence
Before registering your account, you need to read the terms and conditions that the bookmaker goes by. This will give you a hint of what to expect from your sport betting activities on the site. It'll also outline how you, as the bettor, should conduct yourself on the platform. For instance, anyone below the age of 18 years cannot open an account at this sports betting site.
Once you've registered, be sure to fund your account so that you can have the 100% deposit match bonus valid for new players on the platform. This will enable you to start making boosts with an additional bankroll boost from the bookmaker.
How to Bet
At all online bookmakers, you are required to create a bet slip with your game predictions. To do this at Stakersden, start by choosing the sport you're interested in. The site boasts quite a few sports so you can choose any that you're familiar with. Once you click on the sport, the available list of countries and their corresponding games will be revealed. Select the one you desire to see the odds and markets that apply to it. A bet slip can contain more than one prediction for a given game.
Confirm your chosen events, odds, and markets by placing your preferred wager amount on the slip. To do this, ensure that your Stakersden has been funded in advance. It'll make the betting process easier. Once your slip is confirmed, you cannot cancel it. So, ensure you review your choices before submitting it. For pre-match bets, odds are typically posted on the platform up to two days in advance.
Stakersden members can also bet on the Soccer Jackpot. This is a prize pool that stands to earn the winner a million Naira. To opt into the competition:
Ensure your bettor account is funded
Make your predictions on the ten matches chosen by the bookmaker
Once your selections are confirmed, 100 Naira will be deducted from your account
You can make as many predictions for the Soccer Jackpot as you desire on the pre-selected games. This helps to earn you more chances of landing the required ten winning predictions to win the entire jackpot.
Another plus that comes with betting at Stakersden is the in-play betting option. With this, bettors on the site can place bets on ongoing matches. Therefore, you don't need to make a pre-match bet for your predictions to count. This option makes it convenient for bettors who may have forgotten about certain match times but are still interested in the game's proceedings.
Stakersden Mobile
Sports betting is something that can quickly be done on the move. That's, especially, if you do not have time to watch a game, but you'd like to still bet on it. As such, more bookmaking operators are making their platforms mobile-friendly so that users aren't restricted to accessing the platform through desktop computers and laptops. The next best thing is mobile sports betting, and Stakersden hasn't been left behind in this regard.
Its online platform is mobile optimized so that users can access it through their portable device browsers. That way, even if you have a Blackberry or iOS phone, or an Android tablet, you can still check out the bookmaker's latest offering with ease. The mobile browser version cuts out the need to have a dedicated sportsbook app. That's because, even though they offer a tailored mobile sports betting experience, apps create quite a few restrictions for a variety of users.
The Stakersden old mobile short code option is also available for bettors on this platform. It allows them to get in on the bookmaker's Soccer Jackpot action courtesy of the mobile service provider Etisalat, by simply dialing *308#. That means that even if you do not have a smartphone or access to a PC, you can still stand a chance at winning the sportsbook's jackpot prizes. The same short code can be used to place bets on different matches since the menu opens up with a variety of options for you to choose from.
Is Stakersden Available Now?
It's rare to find an online bookmaker that checks nearly all the boxes when it comes to defining their brand. Stakersden has been around for years and has done an excellent job of offering Nigerian bettors a safe and lucrative platform for their sports betting exploits.
Though there is much to look forward to when talking about Stakersden, the bookmaker's platform does not currently function. A search online even shows that the site's domain is being sold. It isn't known why the operator stopped offering their services, though. However, it could merely be a case of trying to revamp their brand to better cater to Nigerian sports betting fans. If you find Stakersden's services appealing, keep checking for updates on their status online.