Winnersgoldenbet is a favorite betting site in Nigeria following its popularity. The bookie focuses on soccer betting and has a history of excellent business practices — this has made WGB make its name in the Nigerian betting environment as a reliable and outstanding bookie.
Over the last few months, Winnersgoldenbet has been a tune bettors are dancing to following multiple and huge withdrawal amount of money amounting to millions without any obstacle. This is what interested us in taking a more in-depth look at this bookie and creating a review without overlooking any side of the bookmaker.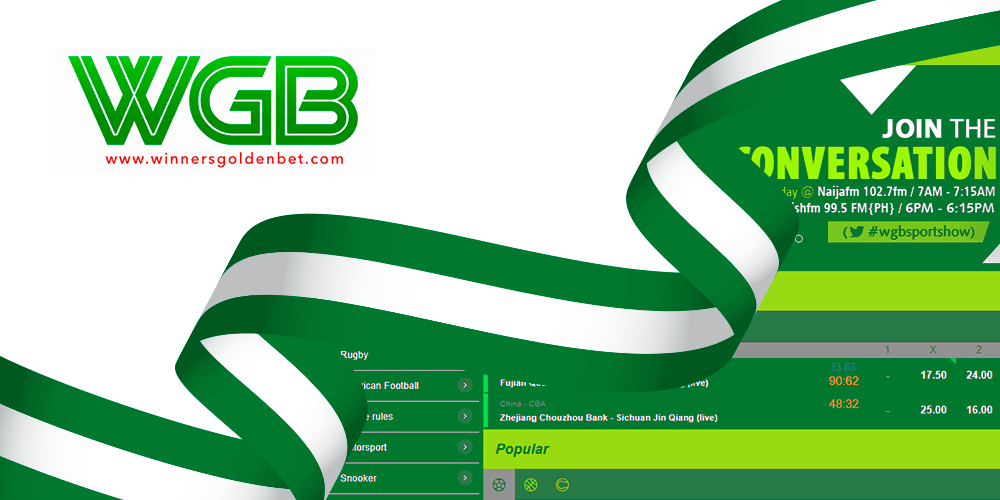 Here, we'll look at Winnersgoldenbet registration, payment methods, sportsbook, pros and cons, and every other detail you need to decide on whether to join or not. We promise you to turn all stones to find whether this bookie is worth your while.
Before we spill all the juice here, join us below and discover for yourself.
Is WGB licensed?
For any bookie to operate in any country, it must have a license. Remember, a bookie is a business like any other, and so it needs a permit. With that said, WGB is a licensed bookie with permission to operate in Nigeria only since 2013. The Lagos State Lottery Board authorizes the WGB bookie to operate within Nigeria. You thus can rest assured of the security of your data and that your winnings will be paid after a game is settled.
Sportsbook
The sportsbook of WGB incredibly smart. On a black background with lime green highlights, it's easier to identify where the sportsbook start and come to an end. On the left side of the sportsbook is the list of all sports Winnersgoldenbet has to offer. These include:
soccer
basketball
tennis
cricket
ice hockey
handball
volleyball
baseball
American football
rugby
pesapallo
Aussie rules
golf
motorsports
cycling
darts
winter sports
snooker
MMA
table tennis
boxing
badminton
If you want to access matches that play in 6, 12, 24, 48, and 72 and 96 hours, you can use the option just above the list of sports.
In the middle section of the sportsbook are matches segments starting with in-play, followed by popular chapter, and lastly, the upcoming. Find the games you want to place a stake on and bet.
Considering the sports page appears by default on the homepage when you login, you have to click on other headers to explore other options. For example, click the live option and find games that are ongoing and see if you can place a bet on any. Different sections of this sportsbook you can explore are the virtuals, statistics, and live scores. And as earlier mentioned, WGB takes one of the top positions when it comes to a great variety of betting options. Since the bookie focuses on soccer, let's look at some of the markets you can choose to use while placing a bet on any soccer game from across the world.
1X2
double chance
draw no bet
1st goal
last goal
sending-off
total corners
total bookings
anytime goalscorer
both team to score
exact goals
halftime/fulltime
goal range
clean sheet
odd/even
handicap and more
Ideally, the markets for all games on the WGB sportsbook are over 50. With this kind of market, you're sure to find a market you can bet on whether you're a novice or pro-bettor. For example, if you're new to the betting industry, you can start with 1X2, double chance, and draw no bet types of market. But, a pro-bettor is comfortable trying other markets such as handicaps, clean sheets, and total bookings.
To access these markets from the sportsbook, find the event you want to play. On the right of that event, you'll find a lime green button with the number of markets under that even. Click on it, and a list of all markets will come on another page where you can choose various markets to stake on. Do the same with any other sport that's your favorite, whether its tennis, basketball or any other game.
Winnersgoldenbet Registration
Winnersgoldenbet registration comes with some rules similar to other gambling sites. For example, the gambling industry-standard requires that every prospective punter must be 18 years or older to qualify to place a bet. According to LSLB compliant firm, any person under the legal age (18 years) should be restricted from putting a stake on WGB bet. So if you're 18, let's jump right into registering an account with WGB.
Step 1: On your browser, search Winnersgoldenbet.com.
Step 2: On the right side corner of the website that will come up, click on the red tab with an indication register.
Step 3: A form will pop up where you must fill essential information, including first and last name, email address, home address, phone number, gender, state, and city.
Confirm the currency field reads Naira and that every other detail you've provided is correct and as per the details on your identification card and banking card. Another thing you should add is a unique user name and opt for SMS or email verification.
Press the accept terms and conditions and submit your data. Once you do, a confirmation code will be sent to your email or SMS, depending on the option you choose as the verification method.
Step 4: Finally, a pop up will appear on your screen where you should enter the verification code sent to your SMS or email.
After the above step, your account will be ready for use.
However, it's essential to note you can't register an account with WGB if you're from another country because the bookies don't allow another option when filling the country field.
Remember, WGB registration will take one or two minutes, and you must have an ID card to avoid unwanted friction in the verification stage.
Bonuses
At the time of this writing, WGB betting doesn't come with bonuses – not even a welcome bonus. It's so unfortunate that Winnersgoldenbet ignores the need to have at least one reward as it's an excellent way to attract potential punters. The truth is, people, find a bookie with bonuses as reliable and capable of paying winnings. But, although WGB lacks rewards, we hope it's not the cornerstone in which this bookie will operate in the future.
We look forward to the bookie coming up with a bonus. Nonetheless, there are more reasons and features that WGB bet comes with that are convincing enough for you to join the platform.
Promotions
Similar to bonuses, WGB lacks promotions. But, there is a possibility that the bookie will come up with promotions in the future. Bookies tend to reward their loyal players with promotions every few times in a month or year. Ensure you're active to make sure you don't miss any reward. Moreover, promos are often a one-time thing, which means it doesn't constitute your winning. Instead, if you use the statistics and betting tips, you can still record significant victories. Take promotions and bonuses as rewards you get if you choose one betting site over another. The point is, signing up with WGB will be rewarding in the long run, mainly because of their substantial betting odds.
Payment Options
Payment Options
Flutter Wave

Paystack

WebPay

@mailmoni

Interswitch
Payment is an excellent determiner on whether you'll join a betting platform or not. To illustrate, you might lack banking options, which means you don't have the means to deposit or withdraw your money from the betting platform. The truth is, we feel this bookie has a few payment options than you'd expect. With the few payment options, you might not even belong to any of the banking options they provide. But, you can always find a licensed WGB agent near you, where you can deposit your money or withdraw.
The payment options available on the WGB include:
flutter wave
Paystack
web pay
@mailmoni
and Interswitch
As long as you've added any of the banking options above, your deposit and withdrawal process will be hustle-free. But you can remove one payment method and append another whereby you'll be required to provide documentation proving the account is yours.
How to Deposit at WGB?
One thing I love most about WGB is that their official currency is Naira, which makes deposit and withdrawal process hustle free. How? You don't need to convert your money to another currency before you place a bet and convert your winning back to Naira when it's time to withdraw. Winnersgoldenbet deposit process is straight forward. Either take the option of depositing using any FCMB branch in Nigeria or accredited Winnersgoldenbet payment agents. Alternatively, you can fund your account using any bank-issued card from Paystack, Interswitch, and flutter wave.
To deposit money to your WGB account, follow the below procedure:
i. Log in and head to my account option on the homepage.
ii. Click deposit and select an ATM card or any FCMB branch in Nigeria.
iii. Enter at least the minimum amount you should deposit, which is 500 Naira. If you choose to give in a WGB shop, then the minimum is 100 Naira.
However, you have to ensure that the name you use during WGB registration should correspond with those of the card you plan to use while depositing.
Also, remember that the maximum amount you can use to place a bet is 2000 Naira, and thus, your account should have enough if you want to bet with the maximum amount allowed.
How to Withdrawal?
Winnersgoldenbet pays out your winnings in 24 hours from the moment you request your payment during a weekday. The maximum you can withdraw at one time is 500,000 Naira as the amount has to correspond to CBN policy. But, if you bet in a WGB shop, you'll receive your winnings instantly.
To withdraw cash from WGB, go to the bottom of the page and select payouts.
Another page will come up with options you can use to withdraw your money. Select one payment option, preferably the same you used to deposit money into the WGB account.
Enter the amount you want to withdraw, depending on whether you have more than a minimum.
Confirm the transaction.
After a while, your money will be processed even if it might take up to 24 hours before you receive cash in your bank account.
Winner Golden Bet mobile
How is the thought of betting on the move from wherever you are? Well, betting is some sort of entertainment as people find solace or joy when they gamble and win. Yet, you can't carry your laptop wherever you go. Suppose you used a desktop to complete Winnersgoldenbet registration. That means you take your lunch break to check on upcoming bets and withdraw. The good news is, you can use your mobile browser or, better yet, an app to access your WGB account. Unfortunately, we didn't see an app download option on the main website of WGB. However, we came across one from Amazon when you search for Winners Golden Bet. To access the app, your phone GPS must show you're in Nigeria, cell ID, Wi-Fi ID, and several other access courses that will be required for you to access the app.
Winnersgoldenbet's mobile version also features all the useful, actionable links and buttons as the PC version. The website fits perfectly on your phone screen, whether it's an old or new phone. Buts, it's better to make sure you're using an updated browser to ensure compatibility as the website management is continually updating their website to fit a broad scope.
The bottom line, winner golden bet mobile is a version you can get on your phone that ensures you can enjoy WGB services on the go.
WGB Browser Version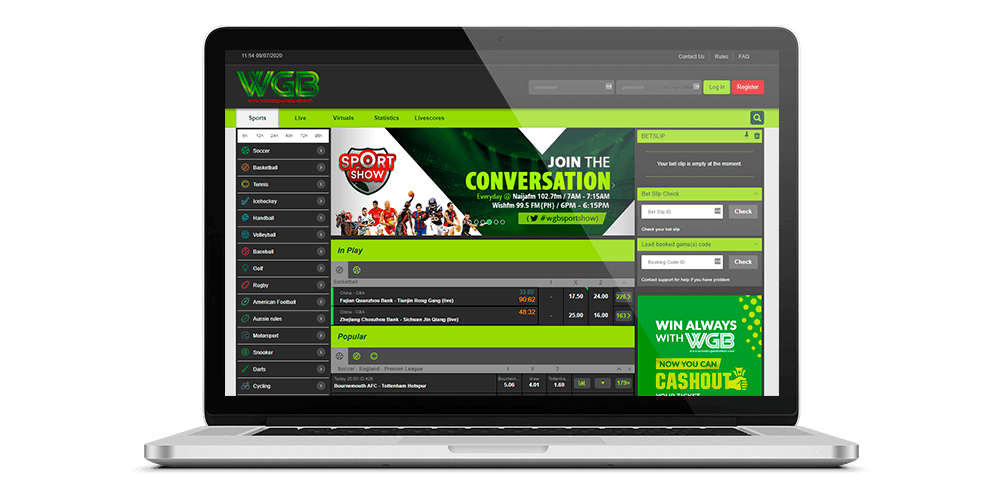 WGB has worked hard to attain what is today one of the best betting sites in Nigeria. The platform takes seconds to load, is efficient, and is easy to access. Immediately you type in Winnersgoldenbet.com on your browser, which could be Chrome, Mozilla Firefox, and the latest version of Microsoft windows explorer; the website loads pretty fast.
WGB browser version fits your screen perfectly, ensuring you don't strain your eyes when looking for a product on the platform. The website lies on a black background with lime green highlights across the platform, making it appealing to the eyes. The good thing with the WGB browser is how all the actionable buttons, links, and sportsbooks are on the first page. From here, you can go to other pages conveniently and fast.
Some of the features that are available on Winnersgoldenbet include:
Cashout — this feature allows you to stop a bet from proceeding if the event seems to take a direction you never expected. For example, if you bet on Tottenham against Manchester, yet Tottenham appears to lose, a betting site can open a cashout feature against that event. Consequently, you can tap on the button and get some of the winnings.
Virtual betting — The WGB betting has the option of virtual betting to spice things up. Here, you select a game and bet on it, and you get an outcome in minutes. Unlike other bets where you place a bet and for like 90 minutes to get results, virtual betting is a thrilling and adrenaline betting option that allows you to bet on multiple games in a short time.
Contact us — Another feature you find on this incredible betting site is the contact us option you see on the bottom of the websites. Scroll to the bottom and find the channels you can use to contact Winnersgoldenbet.
Overall, the WGB browser version is excellent, whether you're using a laptop or your smartphone.
Support Contacts
Winnersgoldenbet has excellent customer service. Their representatives are friendly and competent and will address your issues as soon as possible. Forward your complaints through the following channels:
Twitter: twitter.com/wgoldenbet
Email: [email protected] or [email protected]
Facebook: facebook.com/Winnersgoldenbet
Phone call or WhatsApp: +234 708-709-3729 or +234-806-849-7104 or +234-905-702-8113
If you prefer visiting their office, go to 9A Balogun Street Alausa in Lagos, and your issue will be resolved immediately. But, only contact WGB when you feel your issues are not addressed on their FAQ section as they take time to address most questions you could be having.
Pros and Cons
A question that pops up in every review is the pros and cons of a betting site. We thus dint leave this segment out as some people depend on it to decide on whether to join or go.
Pros
A wide array of betting options
An excellent choice for soccer lovers
High and competitive odds for most markets
Great selection of in-play events
A rich statistical database you can use to make an informed decision before choosing a game to play
Customer support is available 24 hours every day via several channels
Cons
No welcome bonus and promotions are rare
the sites fail to give other sports same focus it does soccer
Who is the owner of Winnersgoldenbet?